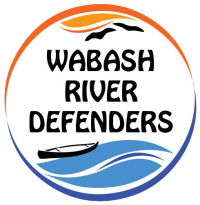 NEW!!
View the Become a River Defender video here!
View Lindsay Clark's video here!
View Steven Weir's video here!
MISSION STATEMENT
The Wabash River Defenders are volunteers who preserve, protect, and defend the Wabash River. We promote trash removal, ecology, boating, camping, wildlife habitat and history of this great river, the longest free-flowing river east of the Mississippi. The Wabash is one of the most impressive of all natural resources in Indiana and deserves our collective defense.

On Saturday, July 26, 2014, the Wabash River Defenders invite the public to a 62 TON RIVERFEST. A family float will take place from LaGro to Wabash. Grab some friends with canoes, kayaks, boats (motorized or otherwise) and join the fun. Free lunch and festivities will follow at Paradise Spring. Popular area band The Daddy O's will play a free concert.
After the great job we've done cleaning 62 tons of trash out of the Wabash River, it is time to celebrate! Watch Facebook for signup, news and announcements!